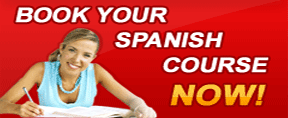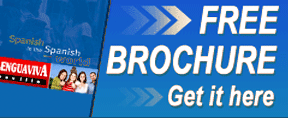 ---
How can I register for a course with Lenguaviva?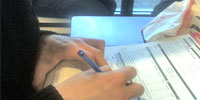 Application form by mail, e-mail or fax:
Central Head Office:
Lenguaviva
C/ Alberto Aguilera, 26. 28015 Madrid (Spain)
E-mail: registration@Lenguaviva.es
Phone: (+34) 91 594 37 76
Fax: (+34) 91 594 51 59
Along with the form, you must also send a deposit in the amount of 250€* in order to confirm registration. Please pay the deposit via: check, bank transfer or credit card (VISA or MASTERCARD, not AMERICAN EXPRESS). See the section below on "how to pay" for details pertaining to this process. All registrations that have not been paid or confirmed at least 3 weeks before the beginning of the program may be canceled.
*The 250€ deposit will be deducted from the final invoice and is non-refundable for any cancellations made.
How can I pay for my Spanish program?
First, as already stated, you must send a 250€ deposit fee* along with the completed registration form. If you prefer, you may pay up-front at this time for the complete course price (course + accommodation). In any case, the complete program cost must be paid in full at least 3 weeks prior to the start of the program. You may pay the deposit and program fees by any of 3 ways:
Send a bank transfer using the below information. Please do not forget to clearly make transfers payable to "IDEAL EDUCATION GROUP, S.L.", include your personal information and the purpose of the payment and send a proof of the transfer by fax or e-mail.
| | |
| --- | --- |
| BANK ACCOUNT | Euros |
| Bank Name: | BANKINTER |
| Swift Code: | BKBKESMMXXX |
| Account Name - BIC: | IDEAL EDUCATION GROUP, S.L. |
| IBAN Number | ES18-0128-0023-2101-0003-2137 |
| Account Number: | 0128-0023-1201-0003-2137 |
Send us your VISA or MASTERCARD information via e-mail, mail or fax using the aforementioned addresses, and please be sure to indicate the exact amount that you are authorizing us to charge to your credit card.

Official Holidays & School Closings 2013
National Spanish Holidays
January 1st - New Year's Day
January 6th - Epiphany
March 29th - Easter
May 1st - Labor Day
August 15th - Asunción de la Virgen
October 12th - Spanish National Holiday
November 1st - All Saints Day
December 6th - Constitution Day
December 8th - Inmaculada Concepción
December 25th - Christmas
* In the case of two holidays within one week (Monday to Friday), one day of the missed lessons will be made up.
* There will be no refund of classes missed due to national or local holidays except for One to One classes which will be made up in any case.
* Partner schools have different policies regarding holidays, so please contact our Head Office for more information
IMPORTANT: Please note that local holidays may be subject to changes by central or local authorities. Please check with our Head Office in order to confirm exact dates before planning your program, because schools will be closed during official holidays (national & local). Also, please be aware that whenever one of these holidays is on Sunday, in general the day off will be the following Monday.
Cancellations/ Changes
Courses
All program fees must be paid 3 weeks prior arrival otherwise we reserve the right to cancel the students place.
The 250€ deposit will not be returned for any cancellations made.
A minimum of 4 weeks will be charged for cancellations made or noticed once the course has started or for less than 3 weeks before arrival.
All refunds will have an administration charge of 10% (a minimum of 65 €).
All students who wish to cancel their program (course and/or accommodations) prior to their arrival should notify Lenguaviva in writing by fax, e-mail (contact us), letter or telegram. Cancellations not received by one of the four previously mentioned means will not be accepted.
Once the chosen program has begun, the student will not receive any type of refund (except in the cases of cancellation policy).
Any change of accommodation, school or program after arrival will incur a fee of 125€
Break in the course : 1 free week off for every 12 weeks of the course (4 weeks notice must be given in advance). In all other cases, taking a break during your course will incur a fee of 100€ and accommodation must be paid in full for the original program length (subject to availability)
Changes after arrival : First change of school or program : free (four weeks notice must be given in advance). First change of school or program without 4 weeks notice : 100€. Further changes of school or program : 100€
High School Cancellations
250€ will be charged for any cancellation made with more than 3 months notice
2.000€ cancellation fee will be charged for the High School program with less than 3 months notice.
Once the High School program has started, no refund will be made.
Summer Residential Program Cancellations
No refund will be given 10 days before arrival or once the program has started.
50% of the course fee will be charged for cancellations made 11 days to 3 weeks before arrival.
Guarantees & General Conditions
Accommodations:
For registrations received a week or less prior to the beginning of a couse, Lenguaviva does not guarantee the type of accommodation desired and requested by the student due to the fact that priority is given to those students who have registered further in advance.
In the event that a student is not satisfied with the assigned accommodations and is rightfully justified in his or her claim, he/she will be allowed to change to another accommodation of the same type (3 changes maximum) and should let his/her wishes be known to the person in charge during his/her first week of residence in the program.
All students should inform Lenguaviva or the host family in advance of their approximate time of arrival. In the event that one of the previously mentioned parties is not contacted, Lenguaviva will not be held responsible for greeting nor picking up the student upon arrival.
When a student enrolled in a Spanish course requires accommodations for a family member or friend, Lenguaviva does not guarantee said accommodation due to the fact that other Lenguaviva students have priority regarding the accommodations.
If a student decides that he/she wants to postpone or take a break from any program for unjustified personal reasons, he/she will lose any right to a monetary refund and the course will not be made up.
Lenguaviva reserves the right to change students' accommodations at any time.
Airport pick-up services:
The flight information (place, date, hour and flight number) must be confirmed in writing at least one week prior to arrival. Otherwise, Lenguaviva will not be held responsible for picking up the student at the airport and there will be no refund.
If the student cancels the airport pick-up sevice less than one week prior to arrival he/she will lose his/her right to a refund of the cost of said service.
In the event of any delay or changes in flight information without previous notification, Lenguaviva will not be held responsible for picking up the student at the airport and there will be no refund.
Useful Information
Visas for Spain:
Citizens of countries belonging to the European Union do not need a Visa to enter Spain.
Students coming from other countries should obtain information regarding the requirements for obtaining a VISADO (VISA) at their nearest Spanish Embassy or Consulate. The certificates that accredit and confirm the enrolment in a Spanish program at Lenguaviva can only be signed, sealed and sent by people authorised by Lenguaviva, who will not be held responsible for rejected Visa applications due to the fact that these documents do not have any official power and merely serve as confirmation of a course in one of our centres. Such documents will only be sent to cover the amount of course time initially contracted by the student. Lenguaviva will send out, free of charge and to any student who asks for them, the following documents (if and only if the total cost of the program has been paid):


Confirmation of the Spanish program chosen by the student.

Invoice for the total cost of the program in question (course + accommodation).

In the event that the student should urgently need the originals of any of these documents, Lenguaviva will send them and charge the cost of express mail to the student (110€)
Optional Insurance:
Students are not covered for any illnesses, accidents, loss of personal property. (neither at their accommodation nor in or out of the classroom). Lenguaviva recommends the use of an optional insurance, which is available to all students who wish to contract it.
Agreement:
Upon signing the registration form or paid the course fees, the student accepts all of the conditions described above. If, under any circumstances, uncontrollable by Lenguaviva, the prices of accommodations were to increase, Lenguaviva would notify the student a head of time of such changes that are felt necessary. The price list replaces the previously existing one and is valid from January 1, 2013 to December 31, 2013 for all programs that take place between these two dates. Lenguaviva is not responsible for typographical errors and/or misprints contained in this website.